Artificial Grass
The best way for a low maintenance garden is Artificial Grass!
A popular option for garden design recently has been artificial grass mainly due to the benefits its offers over traditional turf. Artificial grass can solve the problem, even in low light / shaded areas it looks bright and vibrant all year round.
Many homes have pets and we all see the patches where our beloved dogs do their business, the big bonus of using artificial grass is its completely pet friendly. And we offer advice on how to keep your artificial grass clean.
Let's not forget also, most of us tend lead very busy lives making gardening one of them cumbersome chores we tend to avoid. That is why we recommend artificial grass as it is low maintenance making it an excellent clean, child friendly environment that is easily sanitised using regular domestic products. Leafs and Autumn debris can easily dealt with using a simple yard brush, blower or garden hoover.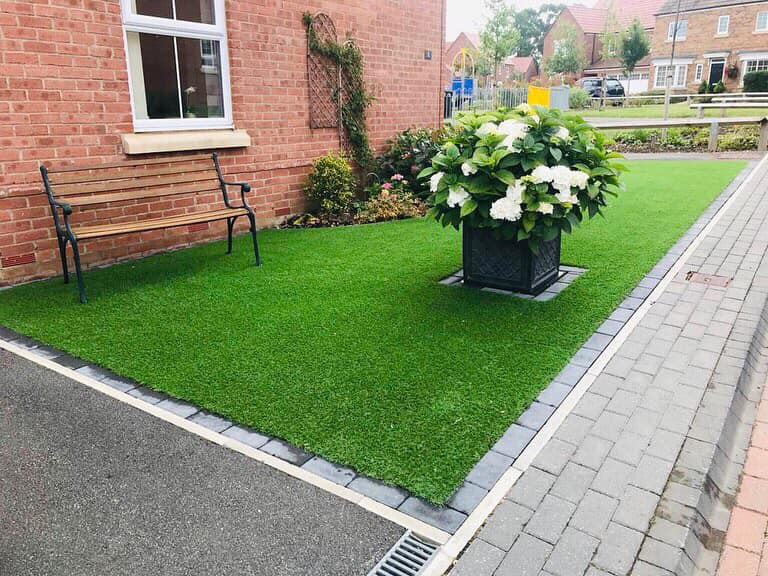 So Whats The Process?
Once we are happy with the status of the land upon completion of our land drainage survey we undertake the following:
Removal of the previous lawn / turf to a depth of a 150mm
Hardcore the area ensuring its compacted using a whacker plate
Frame full area with 3/2 tantalised timber, ensuring the concrete sets to the correct level
Install the membrane to ensure a beautiful weed free area
Lay the sharp sand ensuring its compacted to the appropriate levels
Carefully cut and lay the artificial grass whilst cutting to shape, proceeding to fix to the timber
Carefully apply dry kiln sand and heavily brush into applicable areas
So What About Aftercare?
Like anything, even low maintenance areas can still get neglected, talk to one of our friendly staff about our aftercare packages for artificial grass. Maplewood Landscapes sole focus is providing excellent customer service to accompany our beautiful landscapes.